Our Ulysse Bedroom is a perfect luxurious and relaxing retreat. The comfortable bed is upholstered in soft velvet and decorated with a chevron matelassé detailing. The tall headboard wraps the sides of the bed and embrace the structure which includes side wooden drawers with solid wood handles and brass details. The headboard is enriched by the exclusive copper Braid trimming, available in gold, dark gold and silver finish. A bedroom armchair, sitting at the end of the bed and characterized by the same chevron matelassé pattern, adds some extra style.
On the left side: the new Ulysse Toilette, with its soft upholstered seat featuring a copper braid trimming contour and an integrated brass mirror, completes the bedroom set. On the right side: a close up of the Ulysse Bed with chevron matelassé pattern.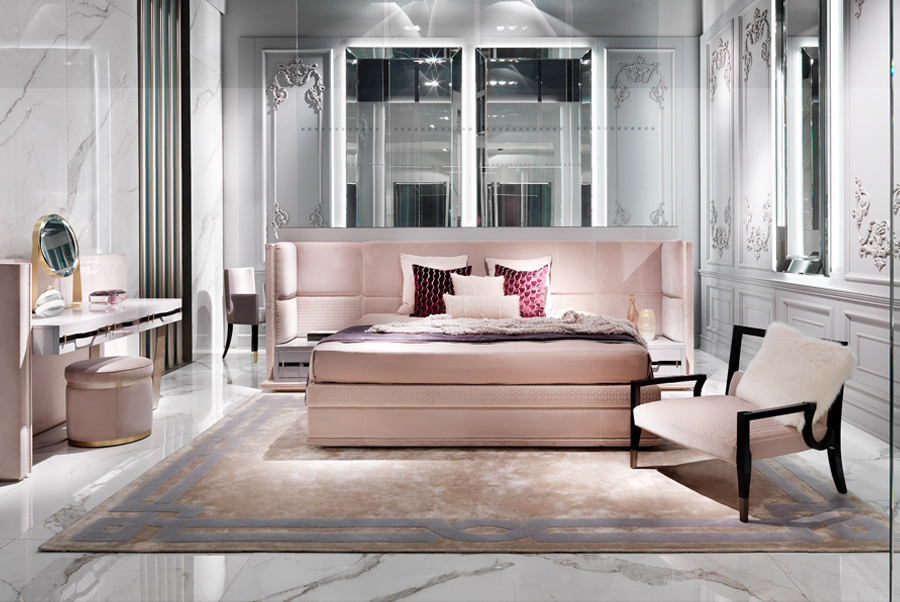 At the latest Salone del Mobile the Ulysse bedroom and toilette were presented as part of a suite design, in a set characterized by the use of a rich classic inspired boiserie, belonging to our Sophie collection.
The palette includes a soft pale pink, dominating the room, burgundy and plum tones. Metal details are delicately warm, from light gold to natural brass.