Classic meets contemporary in a luxury KIEV Penthouse.
At Elledue we are specialists in developing and manufacturing tailor-made interior design projects. Our long-term expertise in luxury furniture production and our passion for fine details make us the perfect partner for those customers looking for unique interior design solutions.
Ulysse, designed by the creative duo Alex&Charles is one of our latest and most successful collections. The line is characterized by the use of special materials like briarwood and marble, refined brass floral decorations, delicately embroidered velvets and peculiar ashlar style details.
Ulysse was selected for this luxury residential project for a Kiev Penthouse, where the contemporary mood characterizing the collection was paired with a XVII century inspired boiserie. The contrast is impressive and creates a warm yet modern atmosphere.
The classic French style boiserie is part of our Sophie Collection.
A view of the lounge area, with the stunning Sophie Boiserie in the backgroung.
A view of the dining area, with our Ulysse Four Doors Cabinet on the left side.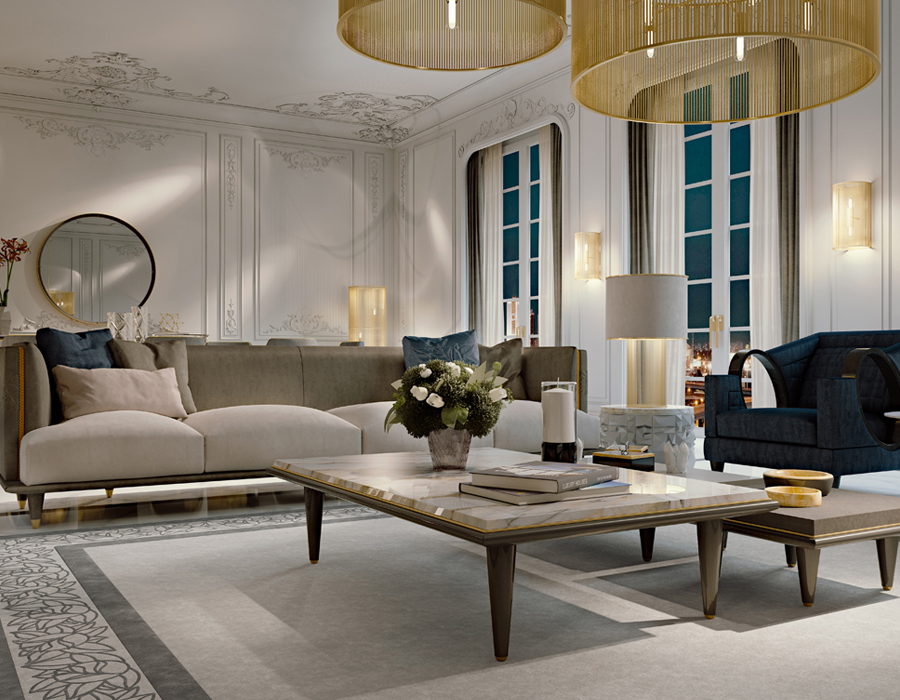 A side view of the lounge area, featuring our Ulysse Sofa, Coffee Tables and Armchairs.
To discover more about our Ulysse Collection, contact us at: info@elleduearredamenti.com