At the latest Salone del Mobile.Milano Elledue disclosed its passion for details and experimentation by playing with different materials. Among these is glass, a versatile element that shows extraordinary features.
When artfully manufactured, glass is able to give furniture a special twist, making them bright and delicate. 
PENELOPE CONSOLLE
This precious consolle suggests a nostalgic throwback to the glam of mid 20th century and, at the same time, brings in a pleasant glowing atmosphere. Its slim legs in a black lacquered finishing are enriched by burnished metal pins while the structure is minimal and refined. The glass panels decorating its doors are engraved with a geometrical motif and cast an iridescent and sparkling hue.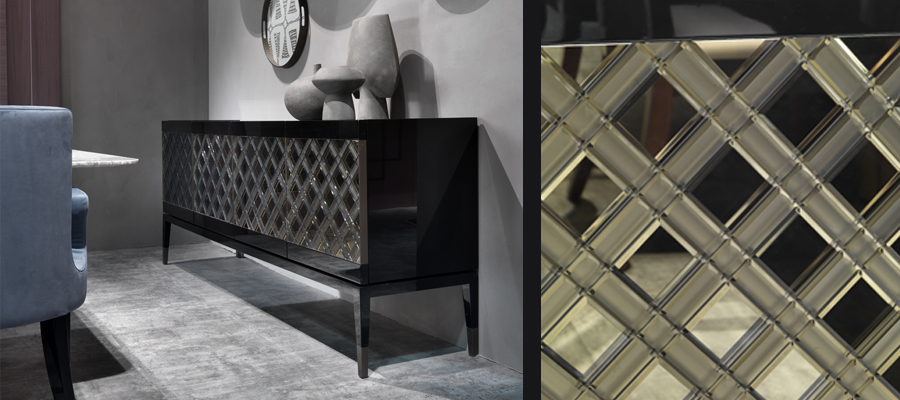 PENELOPE SIDEBOARD
The same elegance and refinement characterize Penelope sideboard, one of our most outstanding pieces. Featuring a solid shape but, at the same time, an ethereal allure, it reflects a warm harvest gold light thanks to its glass doors, masterfully engraved with a classic check motif.
VIRGILIO BAR CABINET 
Our classic Virgilio cabinet is here embellished by the use of an exquisite internal glass cladding that enhances the preciousness of the piece with its diamond engraved decoration.
For further information: info@elleduearredamenti.com